This made me laugh like a hyena. I just get a huge kick out of the songs that come up for the questions. I did this on the book of face and thought I'd do one for my lowly blog. Huzzah!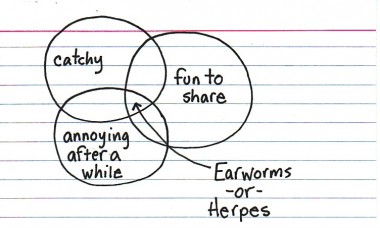 thank you
indexed
for the above comic. you rock!
RULES:
1. Put your MP3 player, iTunes, Windows Media Player, etc. on shuffle.
2. For each question, press the next button to get your answer.
3. YOU MUST WRITE THAT SONG NAME DOWN NO MATTER HOW SILLY IT SOUNDS.
4. Tag at least 10 friends (make me #11 so I can see your results).
5. Have Fun!
IF SOMEONE SAYS 'ARE YOU OKAY' YOU SAY?
Through with you - Maroon 5
HOW WOULD YOU DESCRIBE YOURSELF?
Empty Me - Jeremy Camp
WHAT DO YOU LIKE IN A GUY/GIRL?
Rip Off - Ryan Adams
HOW DO YOU FEEL TODAY?
Promising Light - Iron & Wine

WHAT IS YOUR LIFE'S PURPOSE?
My Day - VeggieTales
WHAT'S YOUR MOTTO?
Workin' Them Angels - Snakes & Arrows

WHAT DO YOUR FRIENDS THINK OF YOU?
House of Cards - Radiohead

WHAT DO YOUR PARENTS THINK OF YOU?
Silent Night - Sarah Brightman
WHAT IS 2 + 2?
Pocketful of Sunshine - Natasha Bedingful

WHAT DO YOU THINK OF YOUR BEST FRIEND?
(Shake, Shake, Shake) Shake Your Booty - KC & the Sunshine Band
WHAT IS YOUR LIFE STORY?
Say won't you say - Jennifer Knapp
WHAT DO YOU WANT TO BE WHEN YOU GROW UP?
NutShell - Alice in Chains
WHAT DO YOU THINK WHEN YOU SEE THE PERSON YOU LOVE?
Everyday (When will you be mine) - Hilary McRae
WHAT WILL YOU DANCE TO AT YOUR WEDDING?
Driftwood: A Fairy Tale - Cursive

WHAT WILL THEY PLAY AT YOUR FUNERAL?
Poison Oak - Bright Eyes

WHAT IS YOUR HOBBY/INTEREST?
The Water - Feist

WHAT IS YOUR BIGGEST FEAR?
These Photographs - Joshua Radin

WHAT IS YOUR BIGGEST SECRET?
Violent - The Faint

WHAT DO YOU WANT RIGHT NOW?
Love like Rockets - Angels & Airwaves

WHAT DO YOU THINK OF YOUR FRIENDS?
Wish Em All Away - Embrace

WHAT WILL YOU POST THIS AS?
The Name of the Game - ABBA