Before I get into the lists I'd like to give an honorable mention to this book
"From the Streets to the sheet"
.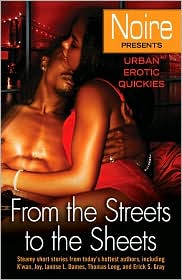 It gets an honorable mention for the following categories.
1. best use of the word quickies
EVAH!
2. best description of content
3. best picture to go with content and 3 word description
4. best choice of title
5. awesome author name
and by best I do mean the most ridiculous. I mean seriously, who goes to the think tank and say Yo, dog, I think we should use the word quickies to describe short stories.
~song artists of the day
>A Fine Frenzy
>Bright Eyes
>Ryan Adams
>Rammstein
>Modest Mouse
~songs of the day~
>Feuer Frei! - Rammstein
>Near to you - A Fine Frenzy
>Fire it up - Modest Mouse
>Lime Tree - Bright Eyes
>Dear Chicago - Ryan Adams
~must reads~
>
Bunny comic
>
xkcd
>
Questionable Content
>
Savage Chicken
>
Toothpaste for dinner
~coffee drinks of the day
>caramel macchiato iced/hot
>starbucks doubleshot on ice
>hazelnut breve latte
>mint mocha chip frappuccino
>cinnamon dolce latte
top played songs on itunes
>Falling or Flying - Grace Potter and the Nocturnals
times played 72
>Butterfly - Jason Mraz
times played 60
>Chasing Pavements - Adele
times played 52
>Ashes to Wine - A Fine Frenzy
times played 52
>Near to you - A Fine Frenzy
times played 51